Tank Utility automatically tracks an issues that can occur with a tank monitor and creates Tickets to let you know about them and proactively take action to resolve a problem.
Using the Tickets feature allows you to:
Stay organized with your monitor maintenance

Drill into specific issues you want to tackle

Keep track of statuses and who is working on resolving an issue
Tickets give you better control over monitor maintenance to help keep your monitoring investment up and running and running your business smoothly.
Tickets
When first selecting Tickets from the side navigation, you will see a full list of your monitor issues that need your attention. These are identified by Tank Utility automatically to keep an eye on your monitors and let you know when one needs attention.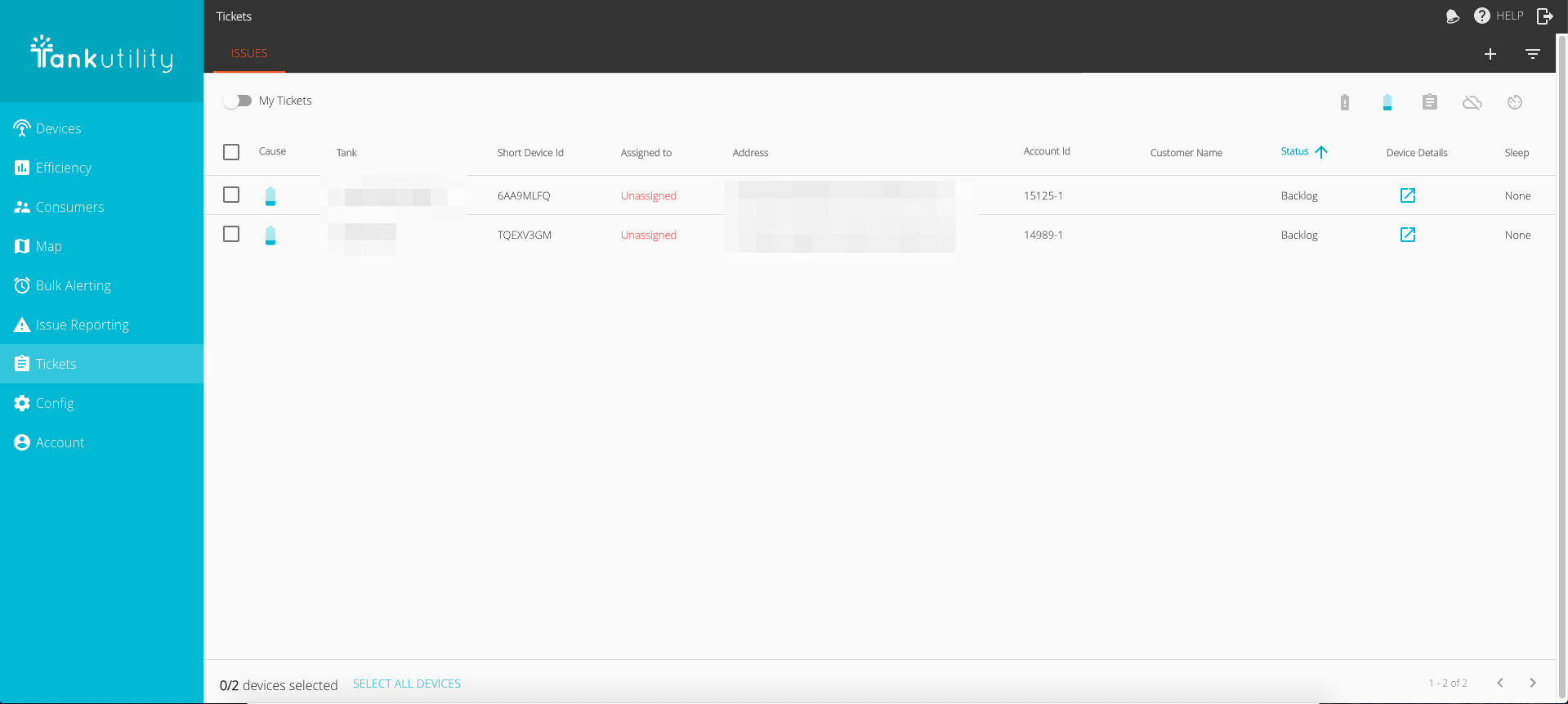 Maintenance issue types
Tank Utility identifies some basic issues that can occur with a monitor so that you can address it before the customer's tank gets low.
| | | | |
| --- | --- | --- | --- |
| Icon | Issue | What it means | How to resolve it |
| | Battery Crit | Batteries on this monitor are critically low and need to be changed ASAP | Replace the AA batteries on this device ASAP |
| | Battery Warn | Batteries on this monitor are starting to get low, but are not yet critical | You have some time to plan a work order or trip for this device - replace the AA batteries on the monitor |
| | Missing Address | This monitor is missing address information in the Tank Utility Portal | Go to the Device details page and add an address for this monitor |
| | Offline | This monitor has not sent a reading to the Tank Utility Portal in more than 3 days | Check on the connectivity in the area (or wifi password) to see if the monitor can transmit from there |
| | Stuck Gauge | This monitor has not registered consumption in the last ~5 days | Tank Utility identified this tank's gauge as potentially stuck - look at the monitors readings and usage type to help determine if there is a stuck gauge |
Assigning Tickets to Team Members
Issues can be assigned to any users in your Tank Utility Portal. Assign different work types to users on your team. This helps you track of who owns which tasks and organize upkeep with your monitors.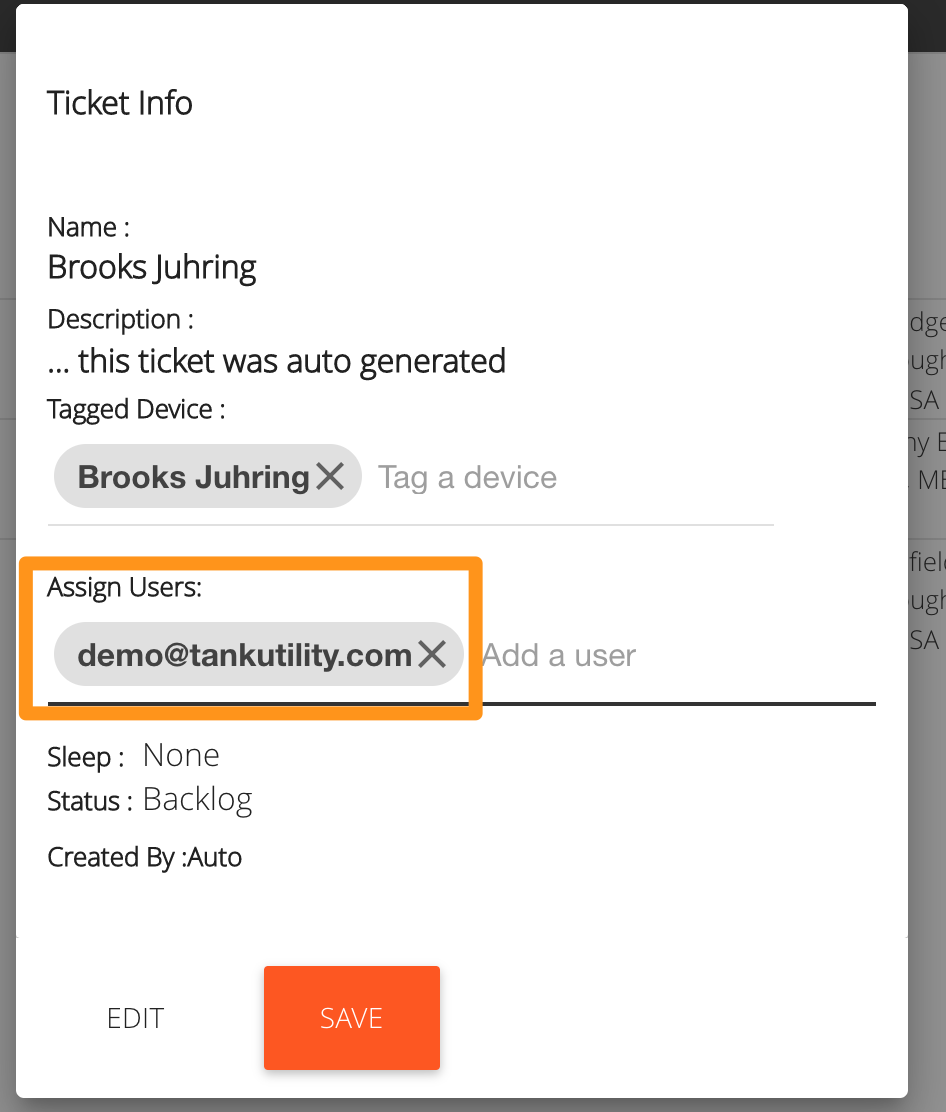 Depending on your role, you may just need to look at tickets assigned to you. You can filter by just that by clicking on the "My Tickets" to toggle it orange.


Tracking Ticket Status
Tickets are added to the Backlog of work to be addressed and by default in the status of Backlog in your list view.
Using statuses makes it easy to track work that you have assigned to a driver or a technician to address and what has been completed.
To keep it simple, Tickets have three available statuses:
You can sort and filter statuses in the list view to quickly understand what is new, what is being worked on, and what has been completed.

When updating multiple tickets for monitors, you can quickly update Tickets as In-Progress or Done by using the bulk edit checkboxes in the list view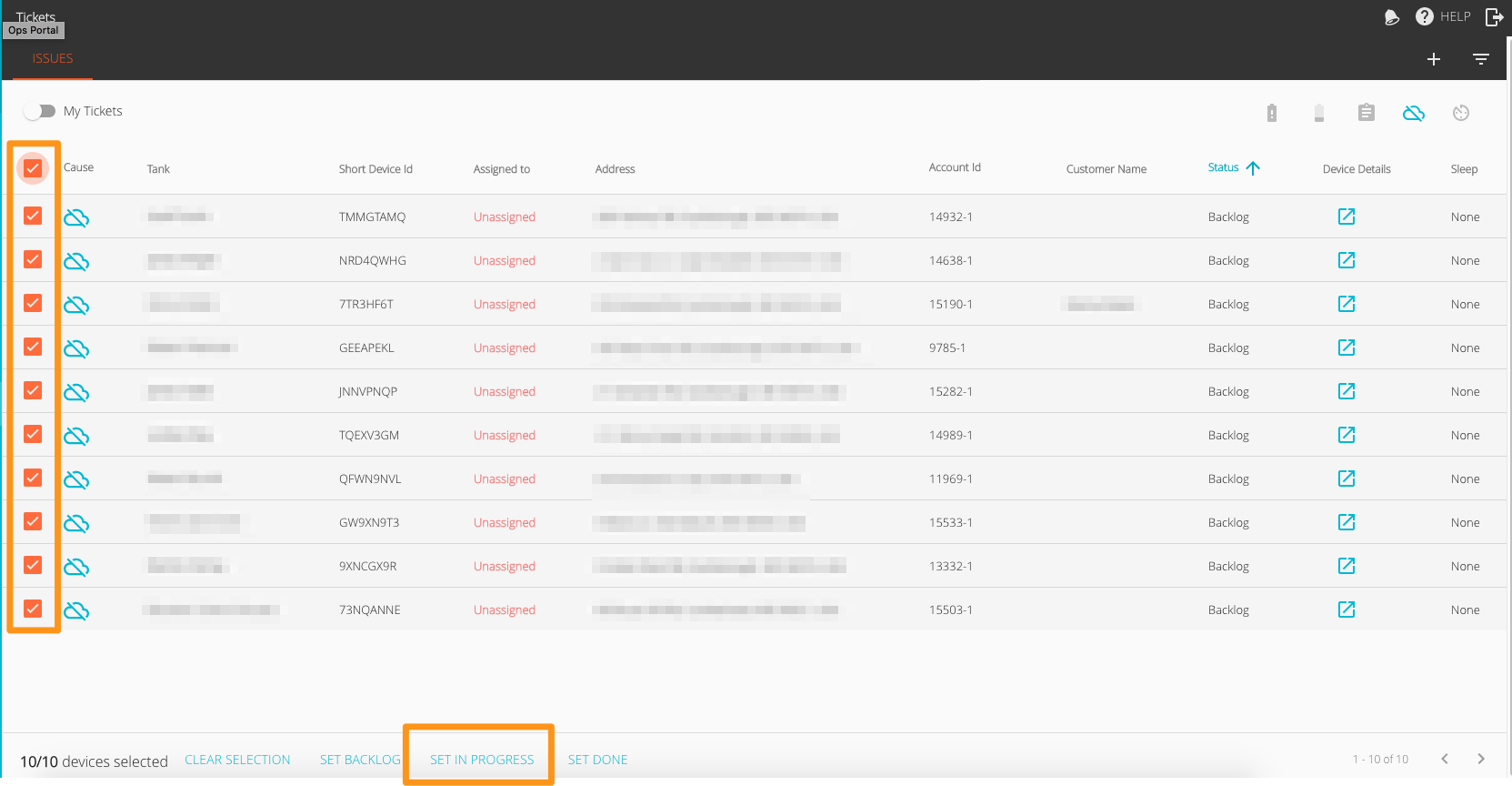 Snoozing a ticket to look at later
Like some emails, not every Ticket may require your team's attention right now. We've made it easy to have us remind you later to look an issue.
To snooze a Ticket, click on the Ticket, select Edit and select the number of days to sleep from the menu: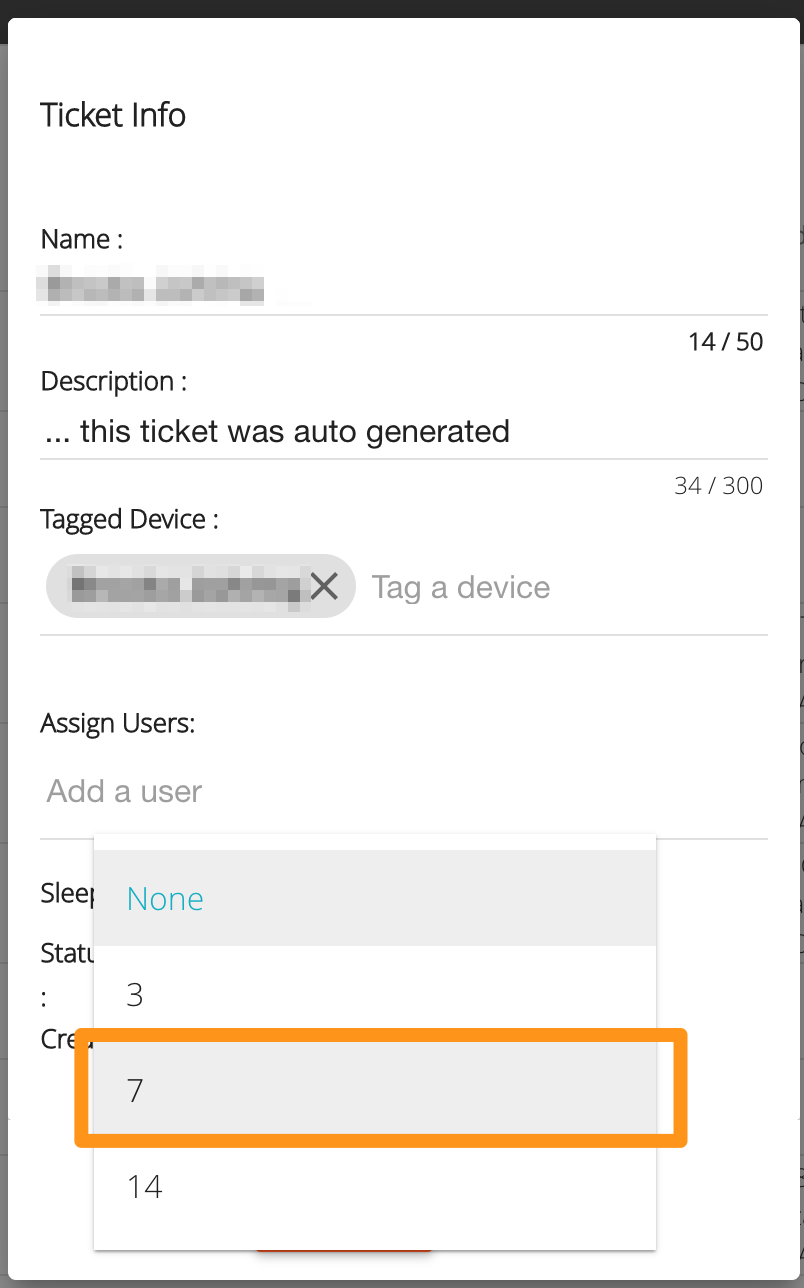 We'll add it back to the Tickets list for you to look at either 3, 7 or 14 days later.
Permanently dismissing a Ticket
While Tank Utility can accurately identify most monitor issues that may require you attention, some require your own knowledge to determine if a problem is a problem. To help with that, you can permanently Sleep a Ticket so that we don't notify you about it again.
To permanently Sleep a Ticket, simply select "Indefinitely" from the list when editing a Ticket and save: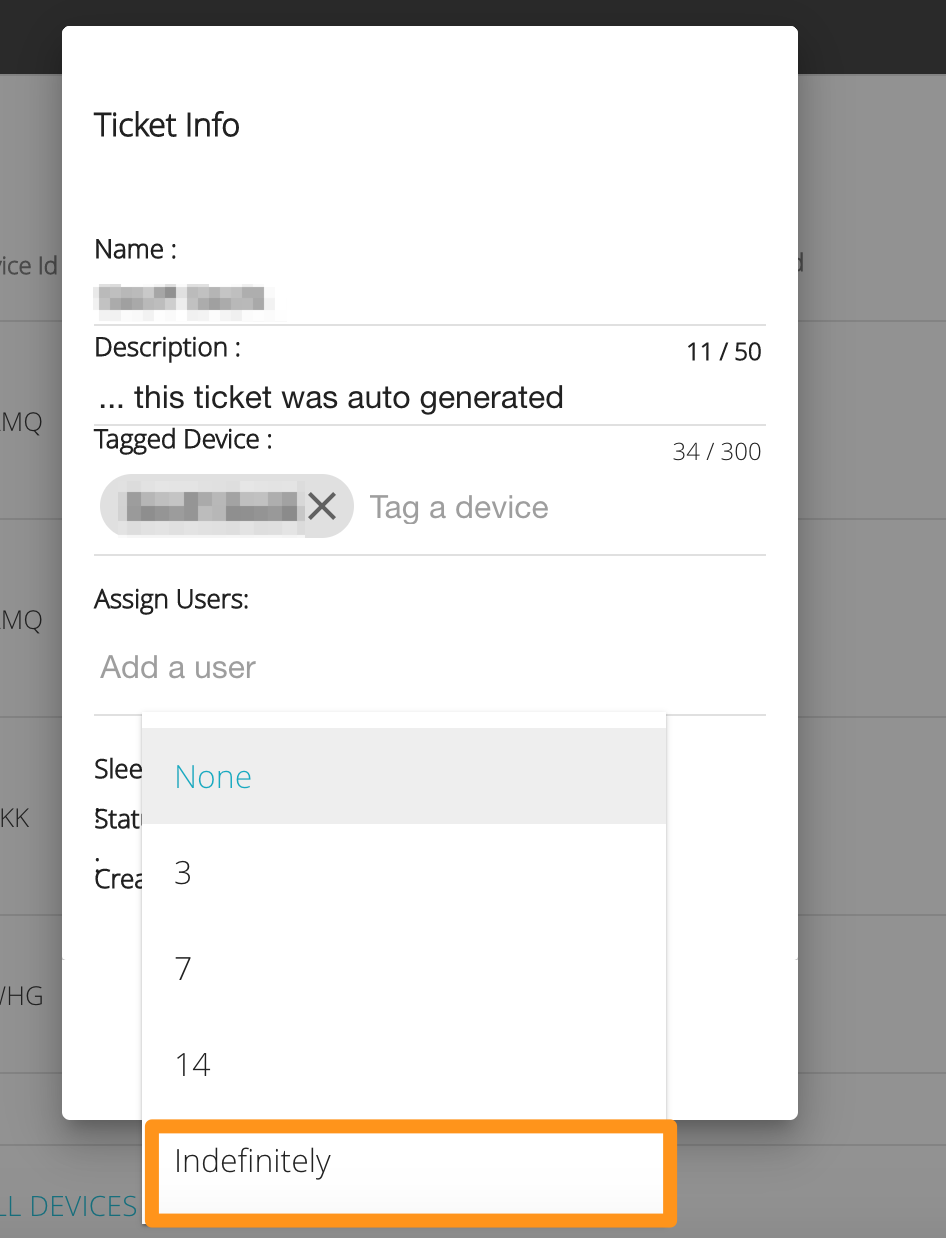 Creating new tickets
Don't see a device on the issue/ticketing list, but want someone to investigate it? No problem!
Go to the '+' in the top right corner and create a ticket
It's important in the description to put as much information as possible for whomever is going to review the ticket. This will let them know where to start when working to resolve it.