Tank Utility's deep integration with Cargas Energy makes it easy to:
Get your tank monitors set up correctly, fast
Reduce ongoing data maintenance in Tank Utility as your customers' information changes
Make smarter delivery decisions using your tank monitors
The following article covers everything you need to:
Configure accounts in Cargas Energy to integrate with Tank Utility
Set up your Tank Utility monitors to pull in Cargas account information and send tank readings
Keeping an eye on your integration to find any sync issues and resolve them
Configuring your Cargas Energy account for tank monitoring
For best results, Cargas accounts and tanks should be configured to Delivery Type = Will Call - Monitored

Tank readings still sync from Tank Utility to Cargas when an account is Delivery Type = Automatic, but Cargas Energy expects accounts to be Will Call - Monitored

To complete configuration of a new monitor in Tank Utility, you will need the Cargas Account Number and the Cargas Tank Number for the customer account
With that information, open the Tank Utility Portal and move on to the next step
Setting up a new tank monitor with Cargas in the Tank Utility Portal
The Tank Utility <> Cargas Energy integration allows you to speed up the Tank Utility Portal device setup process by importing your data directly from Cargas.
To do this:
Navigate to the Device Configuration page
You will see the BackOffice Sync section below
Enter your Cargas Account Number and Cargas Tank Number into the fields below
Click IMPORT to sync customer information directly from Cargas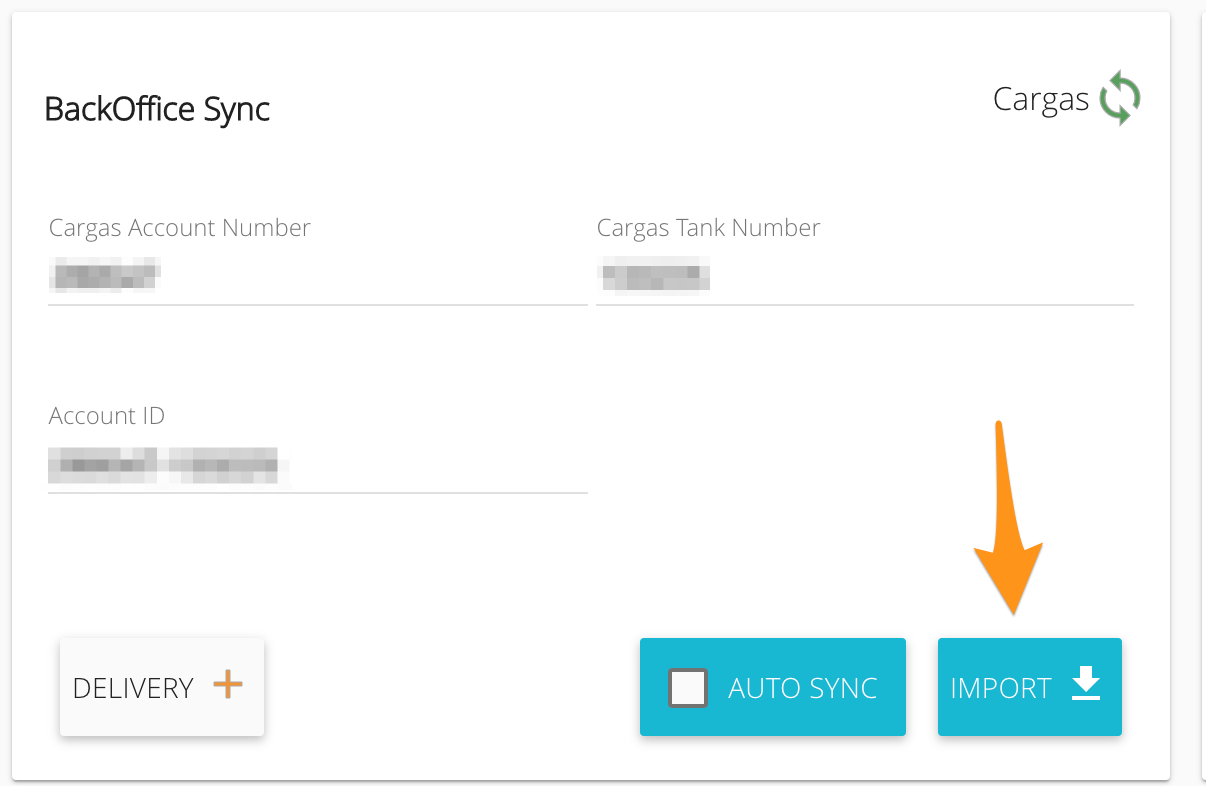 IMPORT will sync the following information from Cargas for the Account/Tank number specified

Customer Name
Tank Name
Address
Tank capacity
Group - this syncs from the Cargas Delivery Zone (if configured)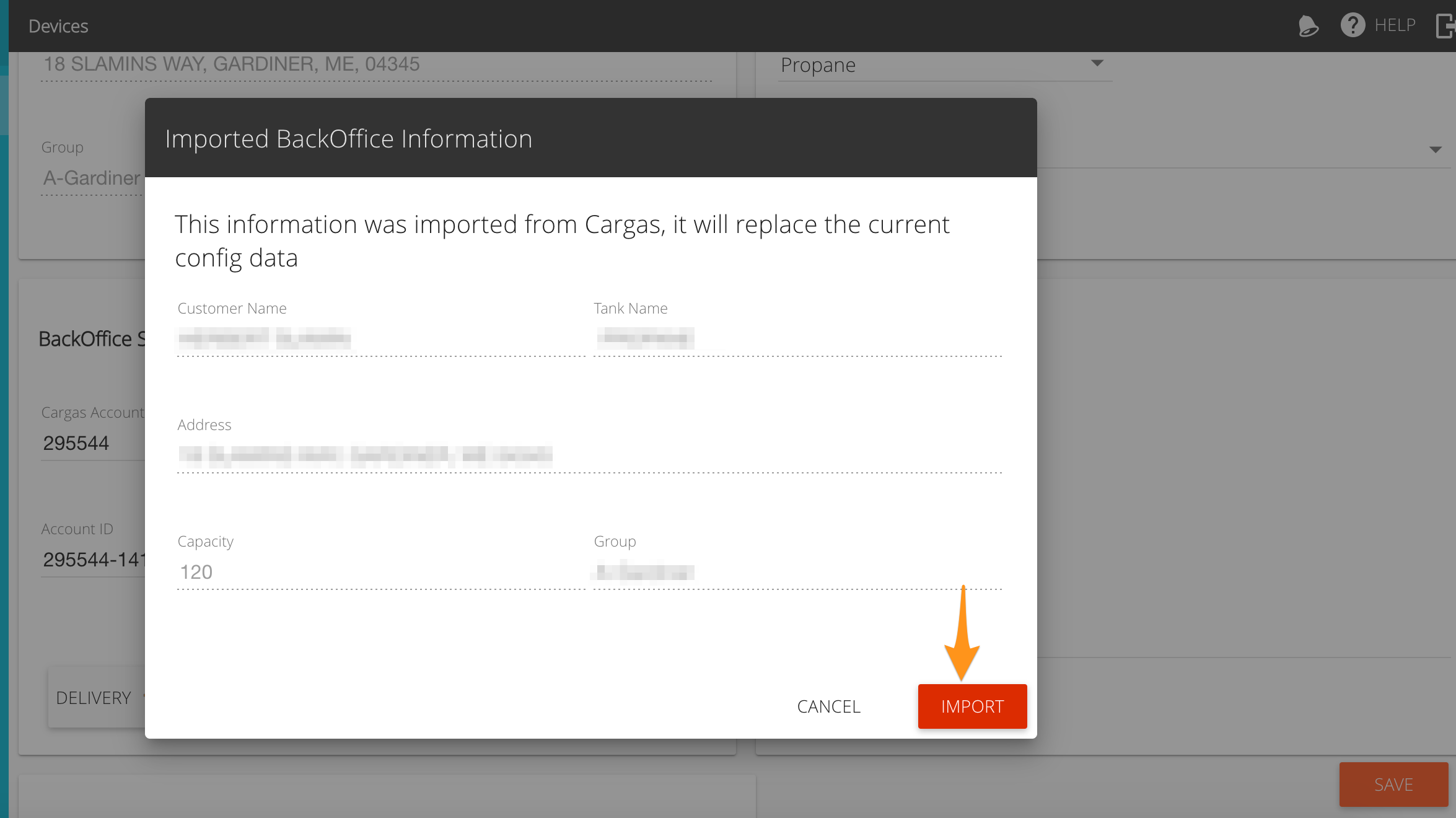 If the information all looks good - select IMPORT
Make sure to add the Tank Orientation and Usage Type(s)
SAVE the device and you are all set!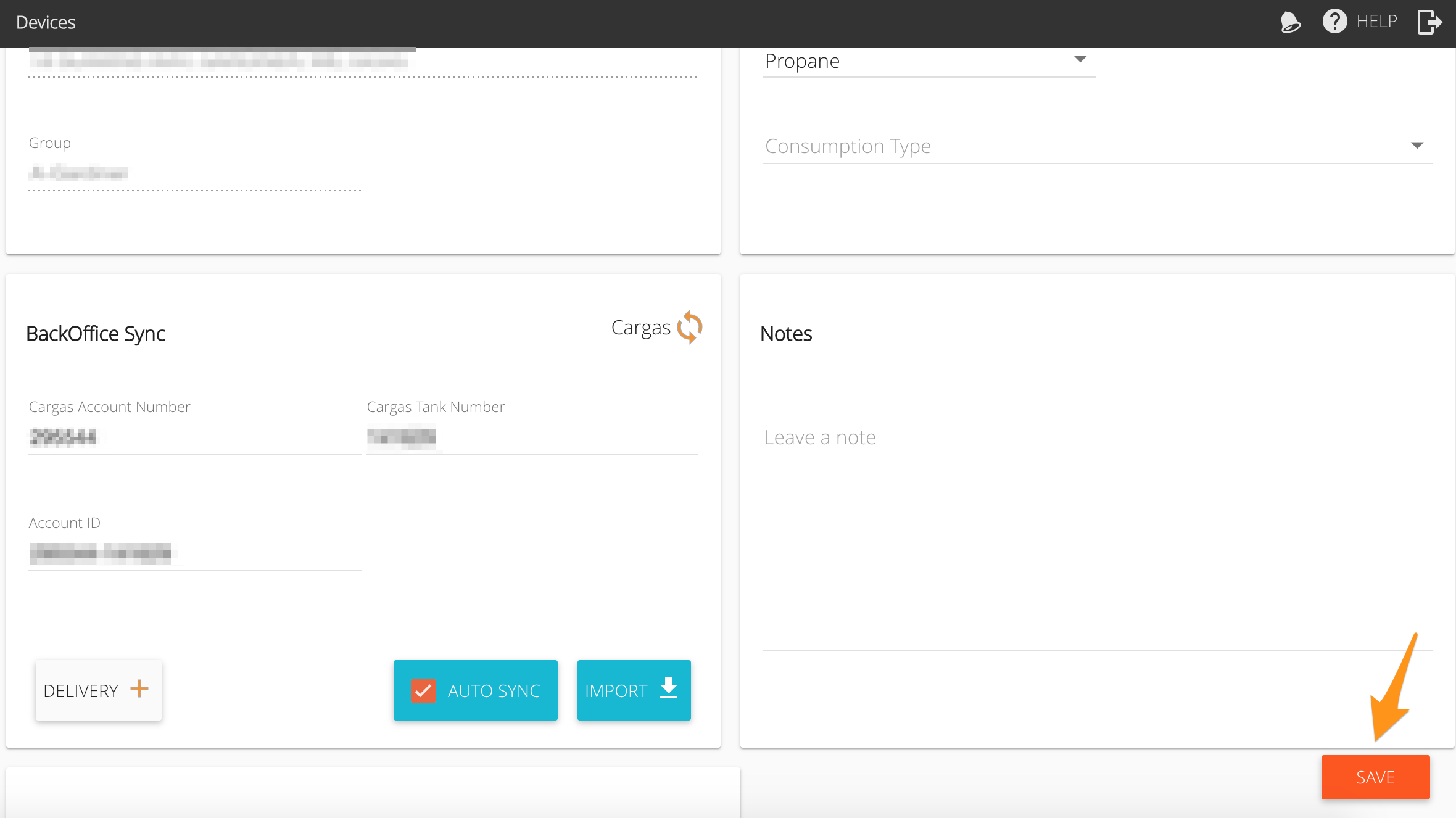 Go to our Individual Device Setup to find out more information to finalize your individual accounts setup.