Set up alerts and don't miss a beat with your monitored accounts.
Enabling alerts will give you the most up to date information on your tank monitors. There are different types of alerts that will allow you to understand what is going on with these accounts.
Types of Alerts:
Warning and Critical Threshold: When the tank level falls below the threshold you have determined, you will be sent an email notification.

Choose different tank levels for

Warning

and

Critical

(defaults are 30% and 15% respectively) which will notify you once the tank is below those thresholds.

Change of Tank Level:

When the tank % changes more than your selected % between tank readings

For example - setting this to 10% could send you an email alert when a high usage tank like a pool heater turns for a few hours or when we detect a delivery has been made to that tank.

Offline: A daily report will be sent which will include monitors after 72 hours of no reading. This will include monitors that are offline 72 hours and beyond. If you have put the monitor to sleep, it will not show up on this report.
Issues: A weekly report that will be sent of monitors that have Missing Config Information, Device Issues and Maintenance.
How to set Alert Defaults:
When you set up a monitor the default alerting settings will be applied to that monitor. You can edit the default alerting settings in the Bulk Alerting tab.
Best Practice - Set up default alerting prior to doing large deployments. This will apply the alerts and the selected users you want associated once the monitor takes its first reading.
Go to Bulk Alerting on left sidebar

Then go to DEFAULTS

Set your Warning and Critical thresholds

Subscribe users to Tank Level, Offline and Issues alerts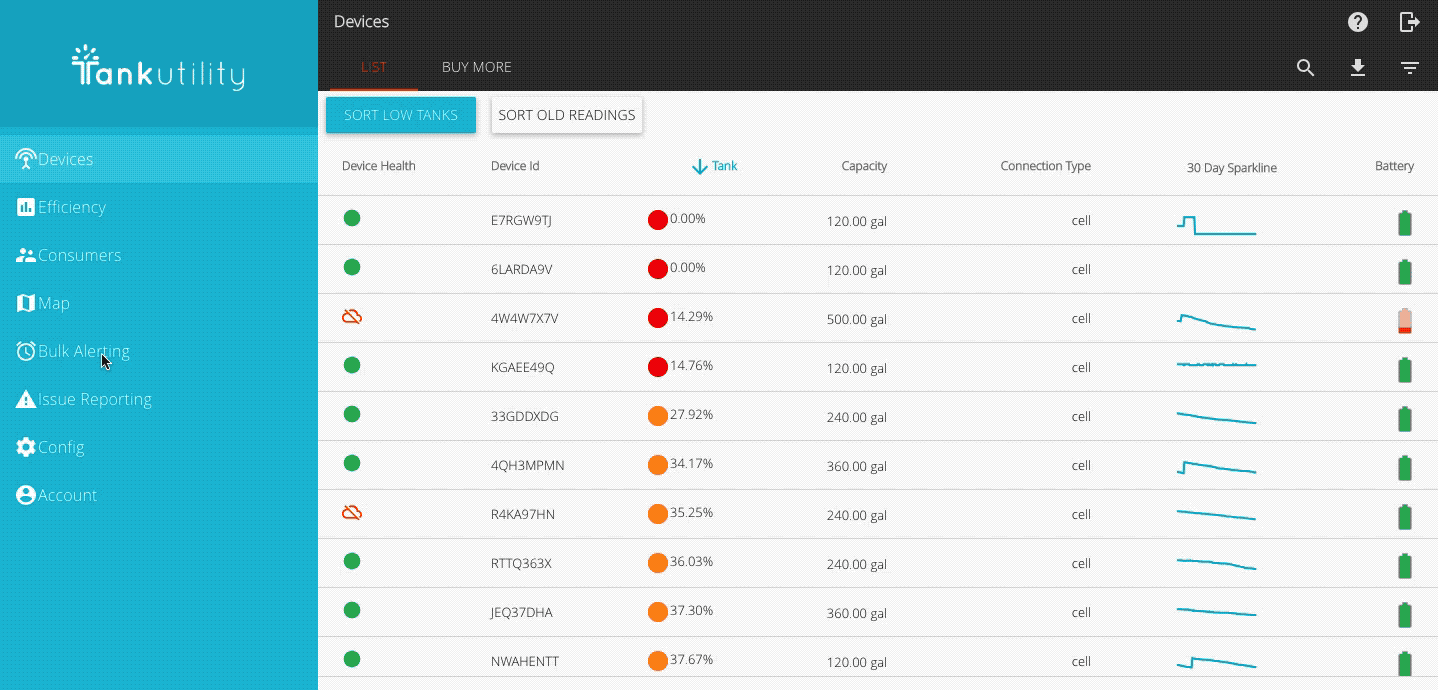 How to set up Bulk Alerts in the portal
Log in to your portal

Go to

Bulk Alerting

on the left sidebar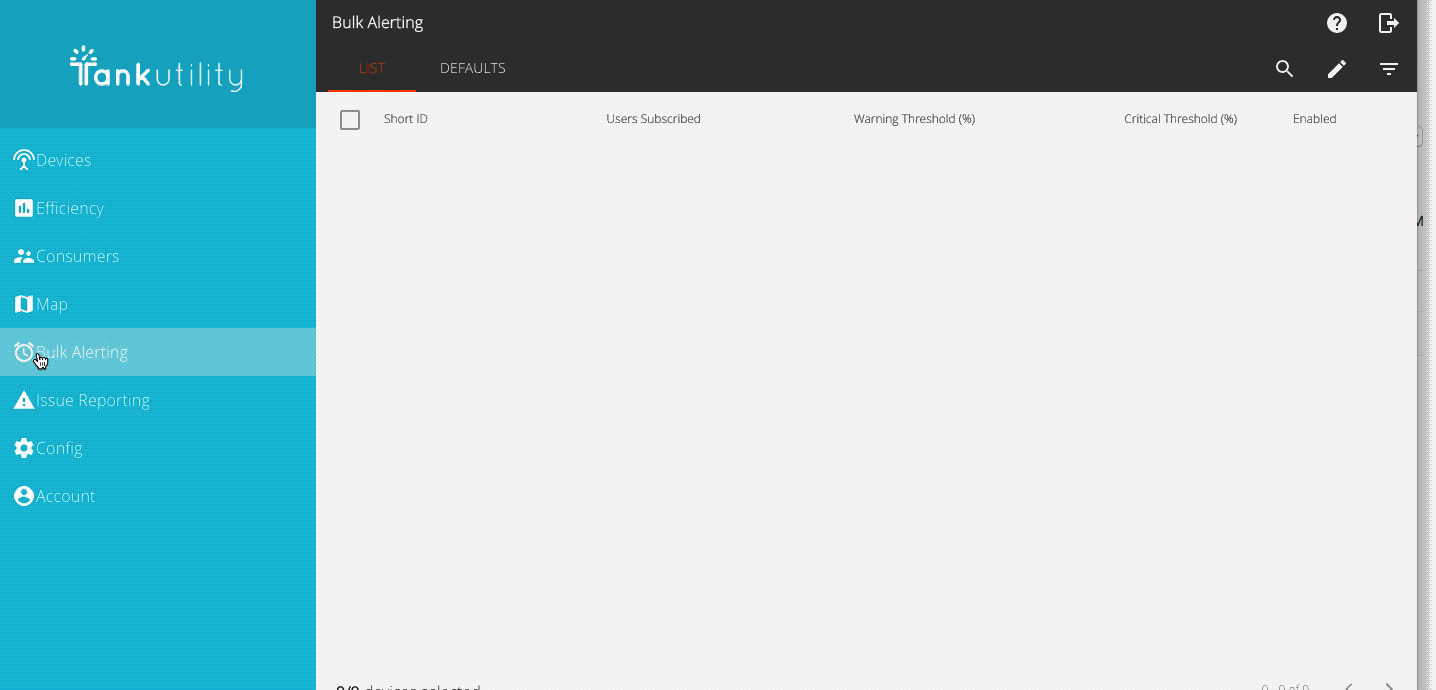 Select the monitors you want to

enable

Go to

EDIT

in the top right hand corner of the window

A small pop-up window will appear

Choose subscribers

Adjust threshold

Click on NEXT in the bottom right hand corner of the window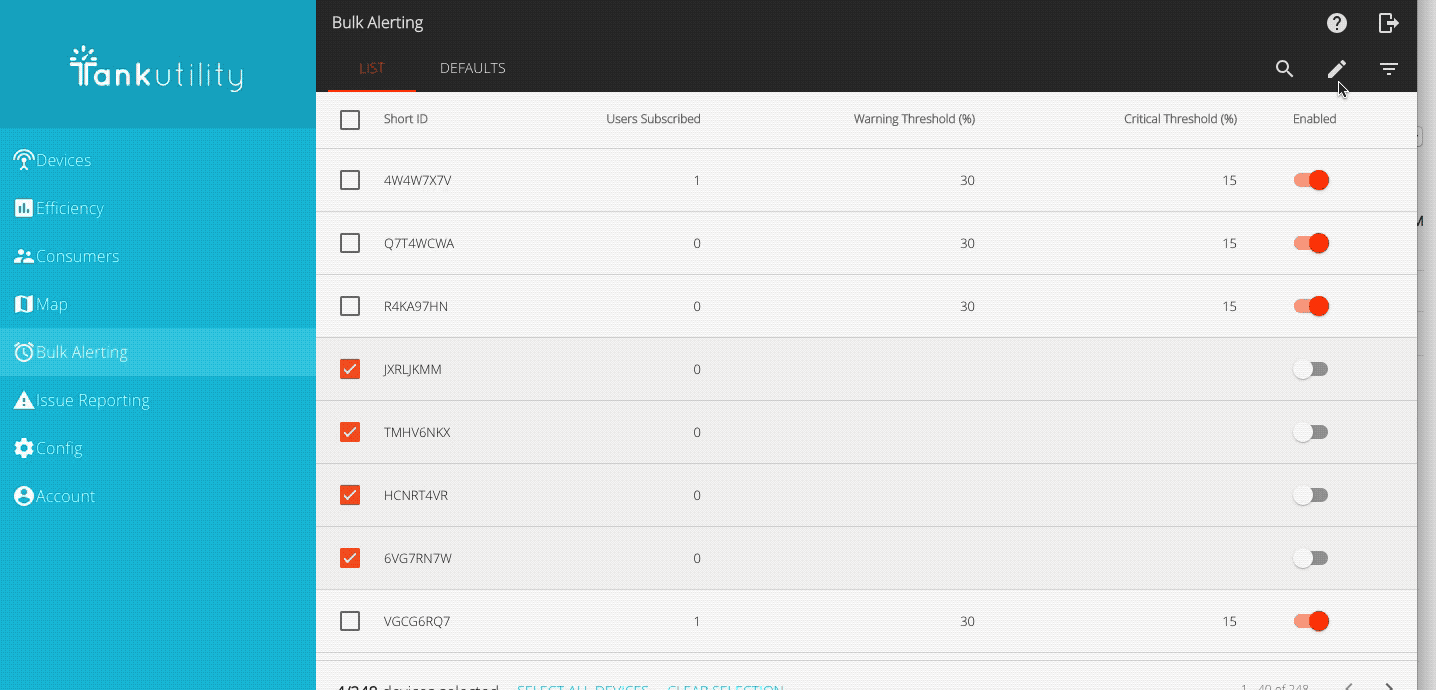 How to set up Alerts for individual devices:
Log in to your portal

Go to the monitor in the on the Devices view

Go to ALERTS tab

Edit your Warning and Critical Threshold as desired and hit save

Add subscribers on the right hand side
To best utilize alerts in your day to day and understand when to use the available options, you will want to look at Implementing Alerts in Your Day to Day.