There's a lot of powerful information in your Device List that will allow you to make important operational decisions. By displaying the information that is important to your day to day operation, you can start strategic planning for your monitored accounts. 
Get the relevant data that you need at a glance in your device list. You can get this, through the organization of your view with sorting, filters or columns.
Sorting
You can sort your Devices page by the columns that you have selected.
Log into the supplier portal

Go to the Devices 

tab

Click on the field you would like to sort by

Important Note: There are some columns that do not support the sort function
Columns
If you do not see the information that you're looking for with your accounts, you can add or remove the columns of data This allows you to change your own view about the device information you would like to see.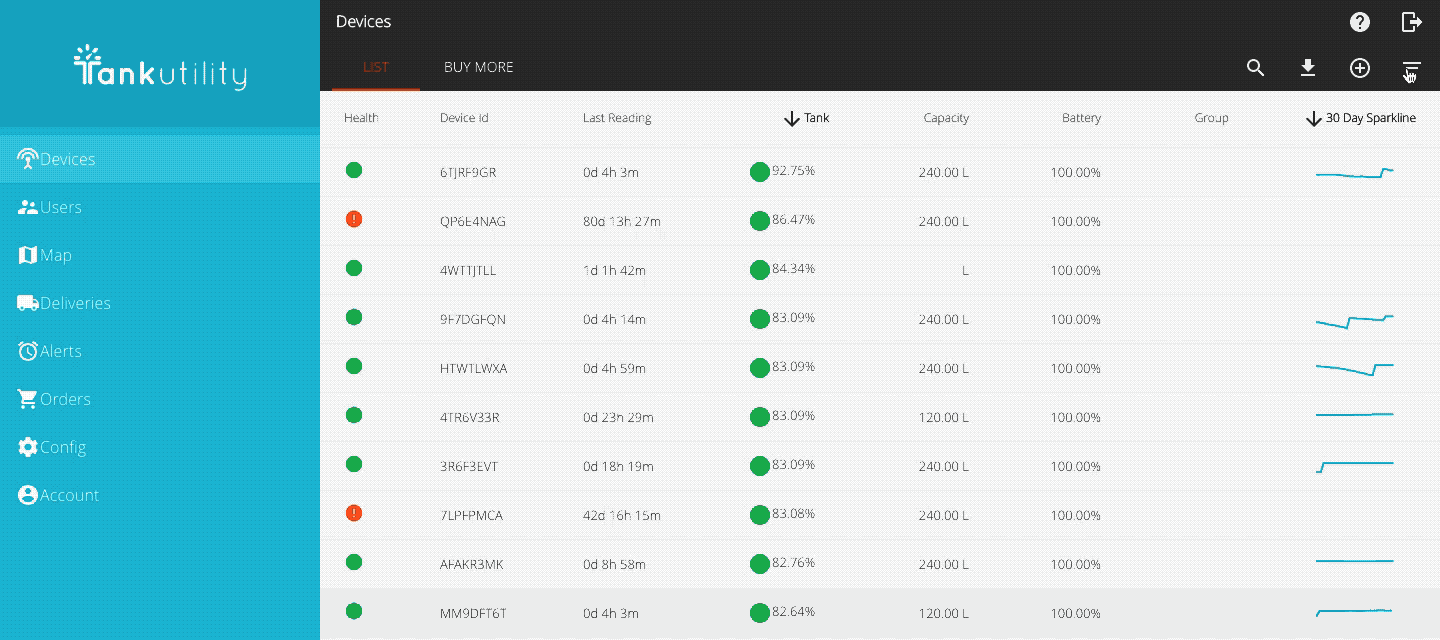 Name

 - Customer name, or Account Name

Address

 - Where the tank is physically located, we use GoogleAPI for the addresses to populate. You can still add an address in that field even if it does not fully populate, it could just mean that it has not been logged by Google's API yet.

Long Device ID - 26 character ID unique to the device
Device ID - Eight character ID unique to the device 
Account ID

 - The Account Number, or ID that you have given for your customer

Software Revision

 - The current software version running on your Tank Utility Monitor

Last Reading Date

 - Last time the monitor sent a transmission

Deployment Date - Date the monitor took its first transmission
Tank Level

 - The percentage of propane, or fuel that is left in the tank

Fuel Type

 - You can monitor both propane and oil tanks, this will allow you to see which

Capacity

 - The total water capacity of the tank

Orientation

- Horizontal, or Vertical

Status

 - Shipped, Deployed, Sleep

Group

- Segment your fleet with groups, this will allow you to sort and filter these devices.

Connection Type

- Verizon Cell, or WiFi

Carrier

 - Which cell provider we are using

Platform

 - CDMA, LTE, or WiFi

Notes

 - If you input data about a specific device, or location

30 Day Sparkline

 - What the tank level trend has been for the last 30 days

Usage Type - The different ways that your customer uses their propane
Battery

 - Shows you the battery indicator for the monitor

Back Office

 - See when the last Sync, or FTP file was created for an individual monitor
Filters
Show only active devices
Checking this box will hide, or show all monitors that are inactive in your portal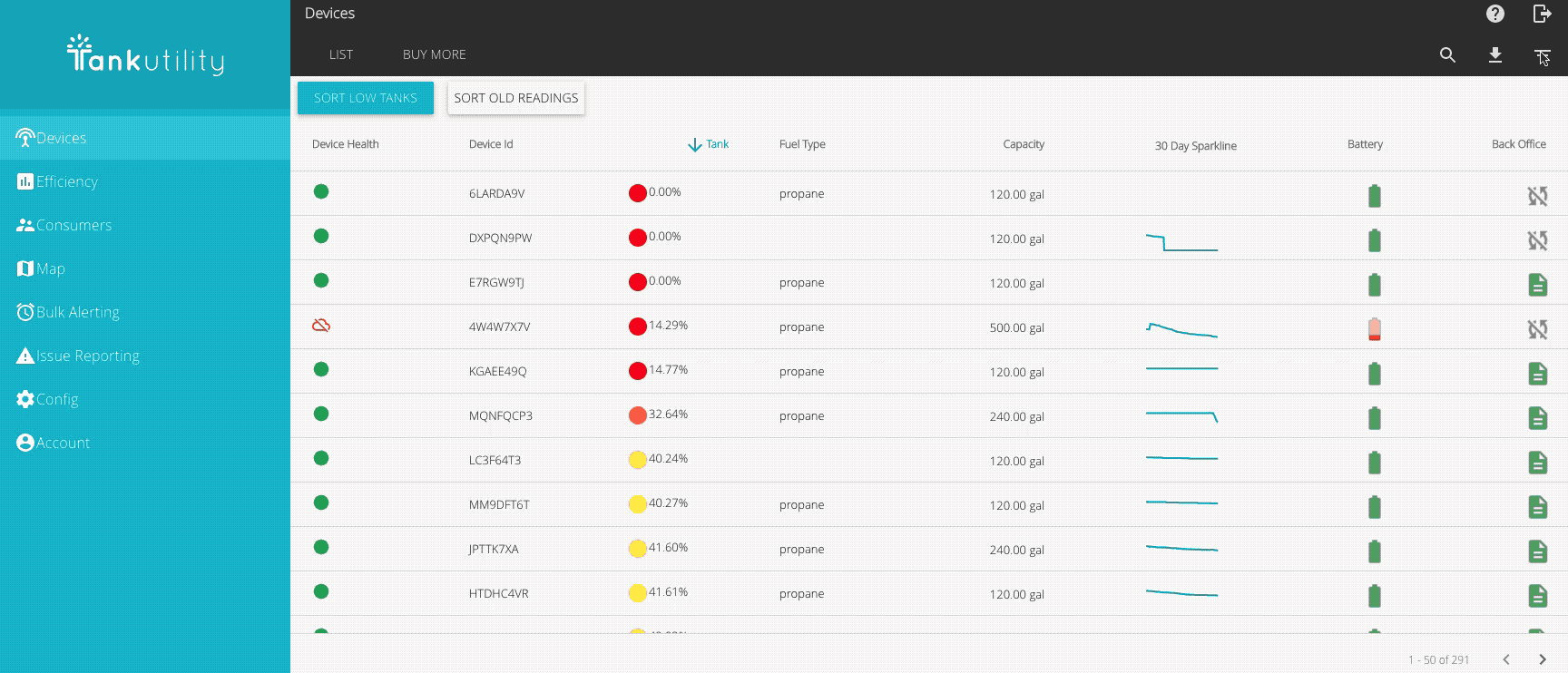 Usage Type
When you deploy a monitor, you can denote what your customer uses their fuel for. You can use this to filter by usage type. This is a quick way to evaluate different types of usage.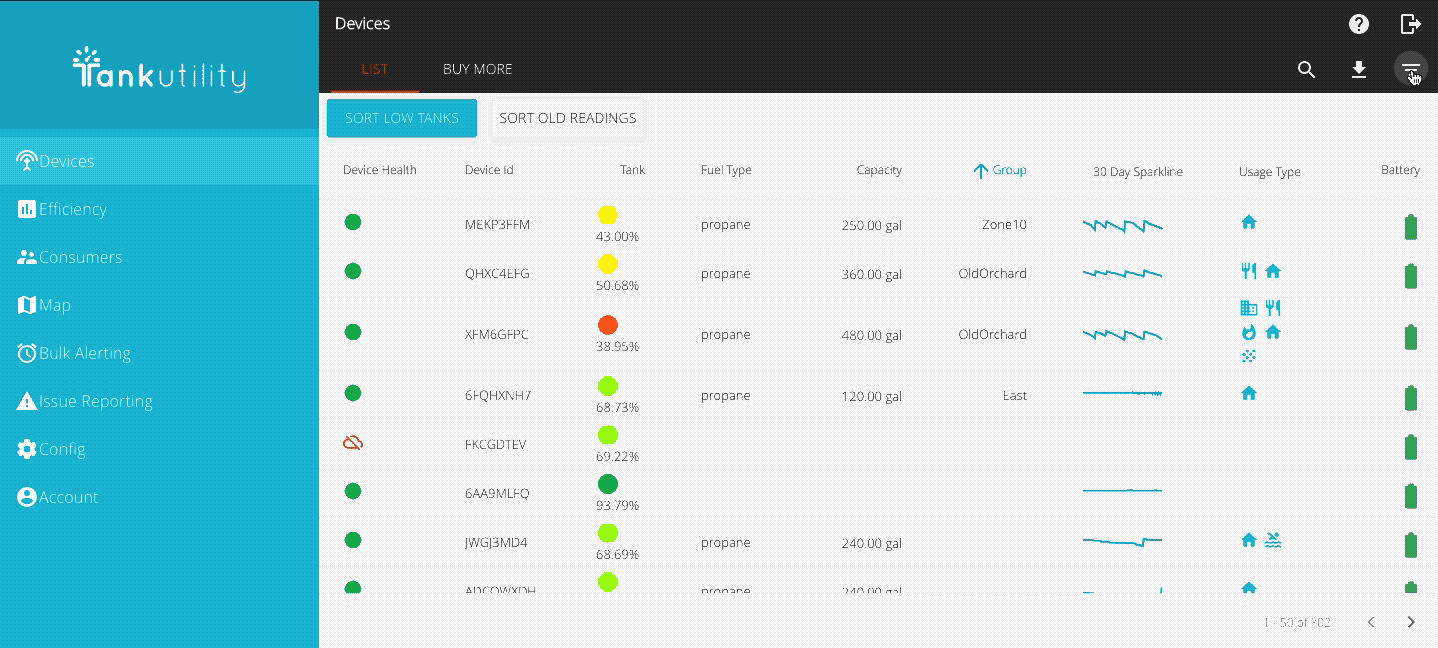 Groups
Groups allow you to organize your monitors in different ways, whether it be devices that are on a certain delivery route, or different types of deliveries your customers take.